What is 10Green?
10Green is a website that provides U.S. air quality data visualization tools and information on human health impacts.
The site features an interactive Air Quality Mapper, where users can explore county-level, annual air quality measures from the Environmental Protection Agency (EPA) for data onward from 1980. These measures include the Air Quality Index (AQI) and 10 key pollutants such as ground-level ozone, particulate matter, sulfur dioxide, and others.
10Green also has an Air Quality Forecast page with slider-animated maps showing the latest 48-hour ground-level ozone and particulate matter forecasts for the continental U.S. These forecasts update twice daily sourced from the NOAA-EPA National Air Quality Capability system.
Information about health impacts and health standards for each pollutant are available on a Pollutants & Standards page.
10Green was redesigned in 2023 in a collaboration between the University of Maine (UMaine) Climate Change Institute and UMaine ASAP Media with funding from the Russell Grinnell Memorial Trust. The website was developed initially in 2010 through collaboration between the UMaine Climate Change Institute, UMaine School of Computing and Information Sciences, and Garrand. Funding for the original 10Green was provided in part by Heinz Endowments, University of Maine, UMaine Development Office, National Science Foundation, and Garrand.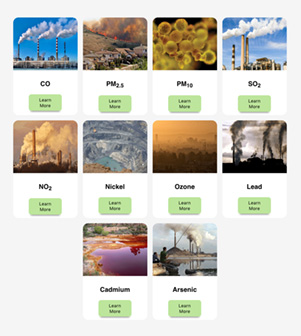 How Ice Cores help 10Green
CCI's interest in providing information about air quality stems from its world-renowned work on ice cores. The cores have allowed CCI researchers to demonstrate dramatic long-term changes in the effects of pollutants on the atmosphere.. In particular through their research, CCI scientists have developed an understanding of how air quality has changed over time, back thousands of years.

10Green is not just about the very important problem that the future is going to get warmer. It's about what is happening now at the local scale. It's about understanding changes in the chemistry of the air we breathe and how this impacts our health. Paul Mayewski, Director, Climate Change Institute