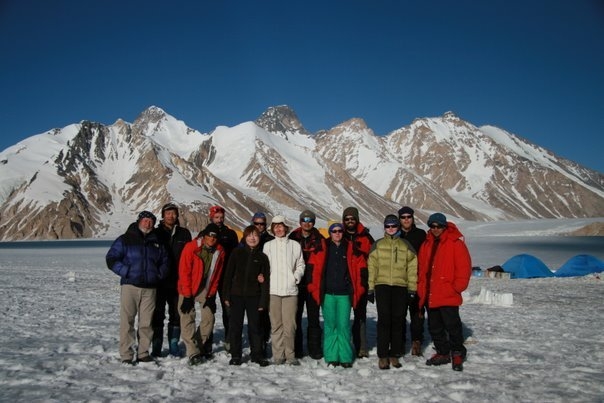 Ice Cores and Glaciological Surveys at Fedchenko Glacier, Pamier Mountains, Tajikistan
Pamir 2009
Ice Cores and Glaciological Surveys at Fedchenko Glacier, Pamir Mountains, Tajikistan
Bjorn Grigholm     Elena Korotkikh
The high elevation snowfields of the Pamir contain robust records documenting: moisture advection into central Asia from the Atlantic and Arctic; dynamics of the westerly jet stream, the Siberian High; the Asian monsoon; and naturally and humanly forced environmental change over central Asia. The current spatial coverage of ice-core records from the Pamir, Tien Shan, Altai, Tibet and the Himalaya is inadequate to document climatic and environmental changes over the northern region of central Asia through the Holocene, even though central Asian glaciers have been studied continuously since the 19th century by Russian scientists and despite the apparent sensitivity of this region to future climate change. The Pamir are located in a region that influences hemispheric scale climate and is expected to experience major environmental change as a consequence of warming. Little past climate information exists from the Pamir and central Asia in general. Asia has a long history of diverse civilization and a large potential for dramatic impact by humans in the near future related to land use, water demand, and general development of society.
The 2009 field season to Fedchenko Glacier in the Pamir is the second trip to this site.  The previous and current expedition leader is Dr. Vladimir Aizen of the University of Idaho.  A very successful reconnaissance trip was conducted in the summer of 2005.  During the 2005 expedition snowpits and shallow ice cores were retrieved along with the installation of meteorological station.  Chemical analysis (stable isotope and trace elements) of the snow pits and ice cores revealed that annual chemical signals were well preserved and indicated the upper accumulation zone of Fedchenko Glacier was a suitable location for a deep ice core.  The purpose of the 2009 field season was to acquire a 100 m ice core record and survey the upper portion of Fedchenko Glacier with GPS and GPR. The retrieval of ice core records from Fedchenko Glacier is the central focus of the Central Asia Deep Ice-Coring Project (CADIP).
CADIP is a multinational effort to drill a 500-1000 meter ice core, which will be the deepest non-polar ice core ever recovered, and will provide a climatic and environmental record covering the Holocene. Institutions, in addition to the University of Idaho and University of Maine involved with the project include the China Meteorological Administration; Cold and Arid Environmental Engineering Research Institute; Chinese Academy of Sciences; Tibetan Plateau Institute; Institute for Environmental Physics, University of Heidelberg; Institute of Environmental Geochemistry, University of Heidelberg; Research Institute of Humanity and Nature; Graduate School of Environmental Studies, Nagoya University; Zenralasiatisches Institut für Angewandte Geowissenschaften in Bischkek; Paul Scherrer Institut, Labor fur Radio- und Umweltchemie; Institute of Water Resources and Hydropower, Tajik Academy of Science; and Tomsk State University.
2009 Expedition Team
Vladimir Aizen         University of Idaho (Expedition Leader and PI)
Arzhan Surazakov    University of Idaho (GPS survey, remote sensing)
Bjorn Grigholm        University of Maine  (Ice-core processing)
Elena Korotkikh       University of Maine  (Ice-core processing)
Nozomu Takeuchi    Chiba University   (Drilling, Ice-core processing)
Koji Fujita Nagoya   Nagoya University  (Drilling, Ice-core processing) 
Sumito Matoba        Hokkaido University  (Driller, Ice-core processing)
Sachiko Okamoto    Nagoya University (Ice-core processing) 
Christoph Mayer      Bavarian Glaci. Comm.(Glaciological Surveys: Glacier thickness and mass balance)
Astrid Lambrecht     University of Innsbruck(Glaciological Surveys: Glacier thickness and mass balance) 
Dylan Bodington      Tokyo Institute of Technology  (Ice-core processing) 
Eugene Podolskiy    Nagoya University (Ice-core processing)  
Victoria Kim          Cook
Valeria Sokolova     Vechrslavovna (Physician)
Expedition Log
August 3rd – Bjorn and Elena leave Bangor
August 4th – Spend day at Moscow Airport
August 5th – Arrive in Bishkek, Kyrgyzstan
We arrived in Bishkek at 5am and headed straight to the hotel to meet up with our fellow expedition members.  Elena and I were the only team members from the University of Maine and our full group consisted of 14 members from 8 countries and 8 Universities and Institutions.
Our first course of action was to discuss the logistics of transportation to and from Fedchenko Glacier. We were deciding between traveling directly by helicopter from Kyrgyzstan over the Tajik border to the Fedchenko Glacier or to travel by plane to Dushanbe, Tajikistan and then take a helicopter to the glacier from there. Unfortunately, we were told, that due to the recent NATO escalation in Afghanistan, the amount of available helicopters was significantly reduced. We decided to stay in Bishkek and wait for a helicopter to become available. In the meantime we prepared provisions that were going to be needed to support 14 people in the field for ~2-3 weeks.
Aug. 6th
The day was spent buying supplies (e.g. food and gas) and more attempts were made to secure helicopter transport.
Aug 7th
It was estimated that we would spend ~2 to 3 weeks in the field with the majority of time working above 5000m (~16,500 ft).  This puts a large amount of stress on your body and we were required to take physical examinations (blood tests and stress tests) to insure that all members were healthy enough to work at such altitudes.  We all passed.
Aug 7th-8th
The group headed to the Ala-Archa National Park in the Tien Shan to do some hiking over the weekend while we were waiting for some of our gear to be released from customs and also some of the cargo of our Japanese colleagues. We were also still eagerly awaiting news about helicopter availability and pricing.
Aug. 11th
Received the disappointing news that there were no available helicopters. We packed our bags for the trip to Dushanbe, Tajikistan.
Aug 12th
Left Bishkek for Dushanbe.  It was a turbulent ride in a small soviet era passenger plane.  Vladimir arranges for the gear to be sent by truck.  Our Arrival in Dushanbe was accompanied with 105-degree weather.
Aug 13th
Vladimir secures a helicopter and we head to Jergital (a small town in the foot hills of the Pamir) to meet up with the truck carrying our equipment.
Aug 15th-17th
We successfully acquired our gear.  The glacier was too far for the helicopter to transport us without refueling and due to scheduling conflicts we spent two nights at a small airport in Jergital, while we waited for the helicopter to return.  The children of the town were very curious about us and we passed our time pleasantly playing some soccer with them.
August 17th
The helicopter returns and was able to transport most of our group from Jergital to an old meteorological station at Fedchenko Glacier (~4000 m elevation). Only two flights were possible so 1/3 of the group spent an extra night in Jergital and were reunited with the group the following morning.
August 18th – 21st
The expedition team spends the next 3 days at the meteorological station as part of our acclimatization.  A GPS survey and biological sampling of the glacier was conducted during this time.
August 21st
Moved camp ~25 km up the glacier by helicopter to ~5000 m elevation.
Unfortunately, the helicopter pilot would not fly higher so we could not reach our previous ice core site at ~5350m.  He felt uncertain about conditions and flying so much weight.  One of our group members began showing signs of AMS (Acute Mountain Sickness) and returned with the helicopter to Dushanbe.  A call to the satellite phone later that night informed us that he was feeling better but he was unable to join us for the rest of our expedition.
The position of the camp was a concern considering we were ~350 m below of our intended destination, where we previously had observed well-preserved annual chemistry.  The weight and size of our camp and scientific equipment made moving on foot to the 2005 site too difficult a task to employ.
August 21st-22nd
We constructed our campsite and some of the team members took GPS and GPR surveys of the glacier in preparation of selecting a drill site.   Drill tent was set up along with a snow laboratory (upwind from the camp) where ice cores would be processed and melted.
Some members of the group were feeling sick and were being treated by Dr. Valeria Sokolova.  Fortunately, no one became seriously ill, but all group members continued to be monitored by the doctor.
Aug. 23rd
Drilling begins.
Drilling took place during the night because during the day temperatures inside the drill could rise above freezing.  Much to our dismay, the drill hit water at 4m indicating that the site may be too warm for a reliable chemistry record (as water may alter the original chemistry signals).  In addition to the possibility of altered chemistry signals, water in the drill hole poses another threat to the drill itself, which can become stuck if the water refreezes while still inside it.  Drilling was halted and a new location for the drill was discussed.  This site is far different than those drilled in 2005 where no water was encountered.
Aug 24th
Unfortunately, the drill cannot be moved further up the glacier to the 2005 site.  It is much too heavy to carry the needed additional 12km distance and 350 m in elevation on foot.  Our best available option was to relocate the drill tent a couple km to the west where we suspected water might not be present.
Aug 25th
Drilling begins at the second site.  Another set back occurs as water was encountered at 10 m.   Drilling was halted again.
Aug. 26th-27th
Available ice cores are processed and melted into vials in the snow laboratory.  The process involved sectioning the ice core into 10 cm increments.  Each 10 cm segment was then cleaned by removing the outer firn/ice layer using a pre-cleaned ceramic knife and pre-cleaned plastic lathe.  Clean snow or ice pieces were then placed in clean plastic bags and melted.  Once melted, water samples were poured into sample vials.  The chemical parameters that will be analyzed for the ice core are:  stable isotopes (dD and d18O), major soluble ions (Na+, K+, Ca2+, Mg2+, Cl–, NO3-, SO42), and trace elements (Al, Fe, Zn, Pb, Cd, Cu, Co, Ti, Ba, Cr, Sr, V, U, Cs, Mn, As, and a Rare Earth Element suite).  Ice Core processors wore clean suits, masks, and clean plastic gloves to avoid contamination of the firn or ice sample.
Aug 28th
A group of 7 of us headed up the glacier, on foot, to the 2005 site and dug additional snowpits both at the 2005 site and 3 snowpits along the way (in between the 2005 and 2009 drill sites).  Group members also conducted GPR surveys of the 2005 site revealing a possible 600 m thickness of the glacier.
August 29th Snow Pit samples were melted into vials.
August 30th  – Helicopter arrived and the team leaves Fedchenko Glacier and headed back to Dushanbe.
September 3rd – Left Dushanbe, Tajikistan and flew to Bishkek, Kyrgyzstan.
September 4th-6th- Waited for field gear and samples to arrive in Bishkek by truck.
September 7th  –  Left Bishkek and headed back to the USA.