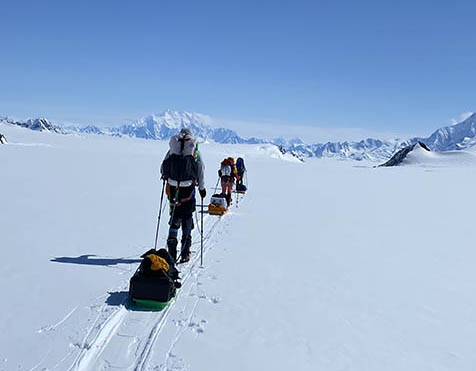 Old Glaciers and New Methods: Applied Ground Truthing Methods for Ground Penetrating Radar on the Seward Glacier
Expedition Dates:  May 2022
Expedition Field Team Members:
Jonathan Maurer (M.Sc. Student)1, 2
Dr. Seth Campbell1, 2
Dr. Kristin Schild1, 2
Dr. Yifeng Zhu3
1) University of Maine – School of Earth and Climate Sciences
2) Climate Change Institute, University of Maine
3) University of Maine – Electrical and Computer Engineering
Expedition Funding: Sturgis Fund and the University of Maine Graduate Student Government.
Field Expedition Location: Seward Glacier, Alaska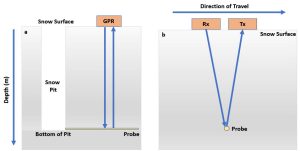 Field Photos: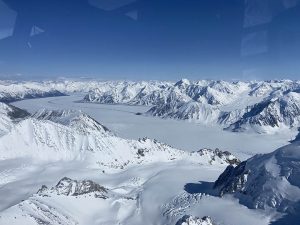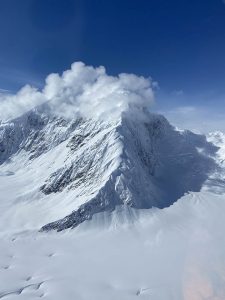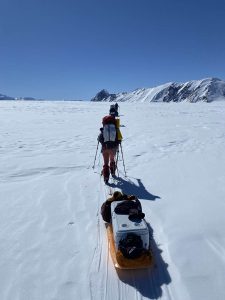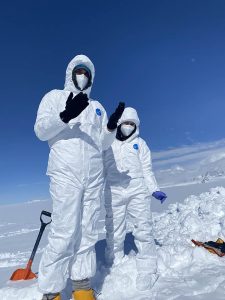 Future Work:
While not the original intention of this proposal, this project serves as a framework for future ground truthing of GPR measurements in glacial environments by testing an assumption critical to the interpretation of data. As a first attempt, the results of this work will inform further studies of similar scope, with the hopes of eventually developing a standardized methodology for local corrections of radar wave velocities. Once developed and applied, generalized corrections can be made by interpolating between ground truth sites. This will improve the understanding of englacial stratigraphy, and strengthen claims made from the results of future studies.
Funding Acknowledgement:
Funding for this project was provided by the Sturgis Fund and the University of Maine Graduate Student Government. These combined funding sources totaled $1,976.96. Funding from The Sturgis Field Fund primarily funded the travel to Yukon, CA and to Juneau, AK. These funds also provided the ability to purchase global rescue insurance, a necessary service for remote back country work. Funding from the Graduate Student government primarily helped offset additional travel costs and baggage fees due to the large size of the mountaineering and scientific equipment needed for this trip. Without these funding sources, this expedition would not have been possible.