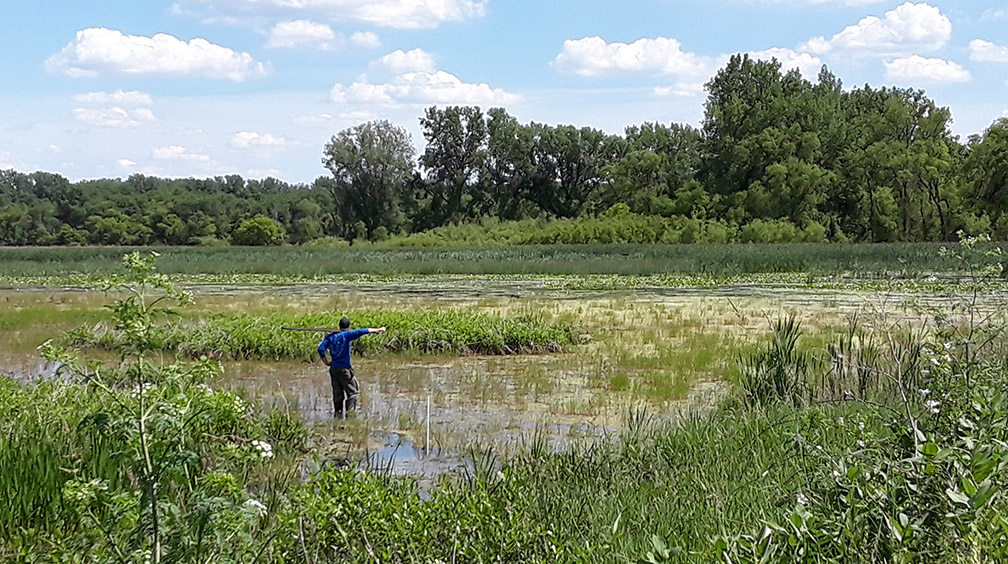 Biogeography of the Grand Kankakee Marsh, Northern Indiana, U.S. over the past 5,000 Years
Expedition Dates:  June 8 – June 20, 2019
Expedition Field Team Members: 
Katherine C. Glover, Climate Change Institute, University of Maine
Jack Ferrara, Ecology and Environmental Science, University of Maine
Meredith Helmick, Environmental Geosciences, Concord University
Jennifer Philippe, Environmental Geosciences, Concord University
Expedition Funding: National Geographic Society Early Career Grant
Field Expedition Location:  Grand Kankakee Marsh, Northern Indiana, U.S.
Summary: Often referred to as "The Everglades of the North," the Grand Kankakee Marsh once spanned over 1000 square miles in Northern Indiana and was famous for its rich biodiversity. Late 19th century resource exploitation and drainage included channelizing the Kankakee River, irreversibly disturbing the Marsh. The Public Land Survey of the early 1800s offers insight to its extent and vegetation cover prior to Euro-American Settlement.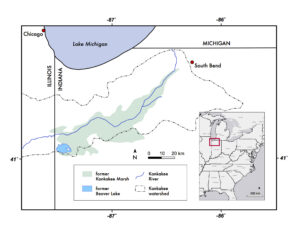 Prior research has detailed Northern Indiana's history of deglaciation, and vegetation and climate change that affected the Upper Midwest more broadly. However, no study has yet assessed a continuous ecological history within the Marsh. I ask, how has deposition and vegetation varied across the Kankakee Marsh over millennia?
Fieldwork comprised a coring campaign in 2019, with the target goal of 10-12 sites throughout the watershed to recover sediment up to the last 5000 years. Fieldwork also supported two capstone projects, including surface soil collection and analysis of carbon stocks, and reconnaissance for sites that possessed cryptotephra from the Early Holocene. A geography-aligned educational module is currently under development for local teachers.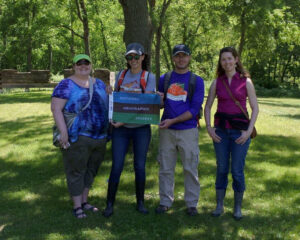 Project Goals:
Goals for the Kankakee Paleo Project are four-fold:
Develop a sediment core archive from the former extent of the Marsh, with a network of cores that span 2 – 4 m and capture the last ~5,000 years.
Stratigraphic and chronologic data, including sedimentary descriptions and data on cores' physical properties, such as magnetics, density, and resistivity. Plant fragments and other macrofossils will establish chronology for the site network.
Biogeography teaching module – a Kankakee Marsh-based teaching module will be developed, aligned to geography standards and in partnership with National Geographic's new State Geography Steward Program.
Student training – two undergraduate students will receive training and mentoring towards their research and career goals as part of the fieldwork and lab team.
Media Outreach:
Initial CCI press release:
https://climatechange.umaine.edu/2019/03/07/early-career-grant-awarded-to-dr-katherine-glover/
Blog post for the Early Pages – "Between Muck and a Hard Place" https://theearlypages.blogspot.com/2020/01/between-muck-and-hard-place-balancing.html
Project website and updates: http://www.katherine-glover.com/kankakee-paleo-project