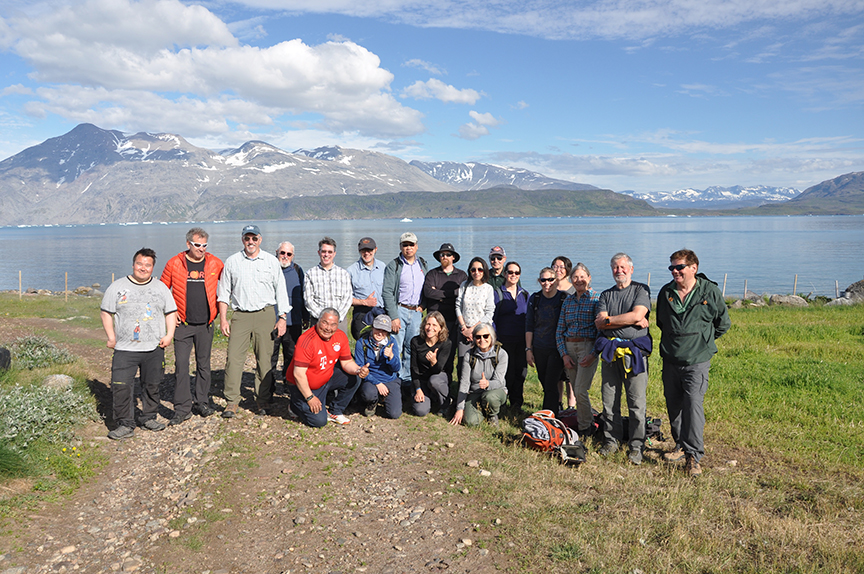 Arctic Futures Workshop – 2019
Expedition Dates:  June 21 – 29th, 2019
University of Maine: Yong Chen, Lee Karp-Boss, Alice Kelley, Paul Mayewski, Peter Neill, Robert Northington, Neal Pettigrew, Erin Roche, Jasmine Saros, and Kristin Schild
University of Southern Maine: Matthew Bampton, Firooza Pavri, Jan Piribeck, Vinton Valentine
Maine Law School:  Charles Norchi, Jeffrey Thaler
Field Expedition Location:  Southwest Greenland
A multi-disciplinary team of 16 University of Maine System researchers and faculty traveled to southwest Greenland June 21-29 to address 21st century challenges throughout the Arctic, North Atlantic and Maine by experiencing the impacted region first-hand.
"Just reading about complex issues is not enough to fully grasp and attempt to develop solutions to the challenges posed by topics such as climate change, renewable energy and environmentally sustainable economic development," says Jeff Thaler, visiting associate professor at University of Maine School of Law.
And those same issues are also creating challenges in Maine and the Northeast.
The "Arctic Futures Workshop" was organized by the Director of the Climate Change Institute, Paul Mayewski and the Director of the Center for Oceans & Coastal Law and Graduate Law Programs, Charles Norchi.
The goal was to learn about the area, find common issues and contribute proposals for addressing the challenges and quality of life in the Arctic, and Maine.
Many disciplines were represented –– from the arts, law and sciences.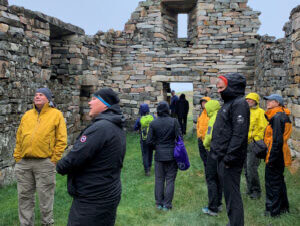 The group took in the sights in and around the Kujataa region experiencing the landscape, people and ecosystem of the region facing issues due to climate and economic insecurities.
Kujatta is a World Heritage Site, established to preserve the unique south Greenland mixture of indigenous and Northern European cultures, says Alice R. Kelley, research associate professor with the Climate Change Institute.
Mayewski says southwest Greenland is the ideal location for interdisciplinary teams of researchers and scientists, many with considerable Arctic experience, to develop plans for significant contributions to the study of climate change in the Arctic.
One reason is the relatively easy year-round accessibility – by Arctic standards. Lee Karp-Boss, associate professor in the School of Marine Sciences, says the region is an excellent natural laboratory with existing infrastructure which makes logistics easier and reduces cost.
"Maine and Greenland have much more in common than most realize; we both are relatively isolated, rural, natural resource-based economies that are facing challenges from rapidly changing economic and environmental forces, and with people who often feel powerless in the face of such forces," says Thaler.
Erin Roche, from the University of Maine Cooperative Extension, says farmers in both Maine and Greenland are highly vulnerable to outside influences such as fuel costs, labor shortages and environmental quality issues that come with new enterprises, including mining.
Studying the population in Greenland could help inform understanding of how humans adapt to, and prosper in, changing physical and social environments over long periods.
"The region provides an ongoing long-term experiment reporting on human adaptation and resilience to climate-driven environmental change in a marginal environment over more than 1,200 years," says Matthew Bampton, professor of geography at the University of Southern Maine.
And according to Yong Chen, University of Maine professor of fisheries sciences, this presents an opportunity to learn how to better manage resources in a changing environment.
An example is the northern shrimp fishery. Chen says Maine's fishery has been on moratorium since 2015 because of low stock abundance. This could be worrisome for the Greenland fishery, as northern shrimp is the largest and most valuable fishery – consisting of 60 percent of the country's total export revenues.
But not everything in Maine and Greenland are comparable.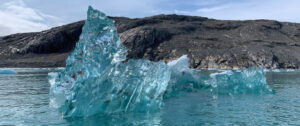 The travelers enjoyed spectacular scenery with glaciers, fjords, old Norse ruins and beautiful sheep farms – some of which are completely isolated and only accessible by boat.
Firooza Pavri, director of USM's Muskie School of Public Service says in addition to daily field excursions to become familiar with the Greenlandic landscape, participants engaged in discussions with local government officials, private citizens and community members to better understand relevant issues.
"Guest speakers shared perspectives on farming, mining and other issues related to the Kujatta World Heritage Site and cultural property," says Jan Piribeck, USM professor of digital art and foundations.
Pavri says studying the "greening of the Arctic" requires scientific tools and techniques to systematically understand changes across the Arctic and anticipate what its future will look like.
A future that will impact an interesting mix of stakeholders — from farmers, to tour groups to those with mining interests, according to Robert Northington, research associate with the Climate Change Institute.
He says this unique mix of stakeholder groups that will be affected by climate change is an interesting aspect to consider in future research and planning.
"The complexity of these issues raised the question of how to stimulate economic prosperity while also preserving local culture and the environment."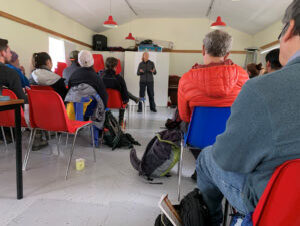 Some participants had specific interests in attending the workshop in Greenland, including Roche, the crop insurance education program manager for Cooperative Extension.
"I wanted to develop an understanding of the impacts of climate change, such as longer growing seasons, higher average annual temperatures, milder winters and periods of drought, on the existing and future potential for agriculture in the Arctic," she says.
While climate change wasn't the only point of discussion on the trip, it was a major one.
According to Mayewski, southwest Greenland is one of the fastest-changing places in terms of climate and environment.
"Everybody assumes that climate change science is all understood – but there is still a lot more to do," he says.
"We need to be able to make good predictions with plausible scenario planning. And that's what we can bring to Greenland – an understanding of what their short-term, medium-term and long-term climate and environmental future is by adding all of these other disciplines."
Kelley says monitoring impacts of changing climate and increased tourism at the Kujataa World Heritage Site will provide data for sound cultural resource management.
"Warming in south Greenland has already resulted in the decay of organic material in archaeological midden deposits throughout the region and shifting of ruin foundations as permafrost melts," she says.
Because tidewater glaciers are at different stages of retreat, Karp-Boss says the area is a natural laboratory for studying the responses of marine ecosystems to climate change.
The trip resulted in a variety of proposals that focus on the present as well as future potential of the Kujataa World Heritage Site.
"We have a great opportunity to do research there, educate students and collaborate with other campuses. Ideally it will lead to some exciting new research programs," says Mayewski. "Now, we've opened doors for everything from courses to undergraduate and graduate programs to pilot studies and research."
Vinton Valentine, director of USM Geographic Information Systems, calls the trip revelatory and stimulating.
"I saw concrete examples of the power of information and the responsibility to inform," he says. "Being onsite in this extraordinary region to stimulate our thinking and exchange ideas with each other and the local population was invaluable."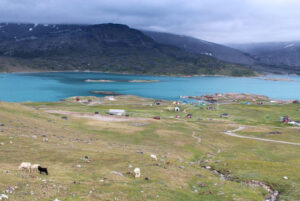 One participant is already looking forward to future exchanges between artists from Maine and south Greenland.
"[They] could explore the role that the arts and humanities can play in building cultural capital and fostering environmental awareness and economic prosperity," says Piribeck.
And there is so much that can be done. The collective proposals from the 16 Arctic Futures Workshop participants include ideas to design courses and field research, create resources to disseminate agricultural production information, design animation series for websites and displays at Kujataa, organize a multi-site symposium, and to engage local communities in citizen science to monitor groundwater.
"Climate change impacts everybody," says Mayewski. "Scientific information is now accepted by 99 percent of the scientific community – and now social scientists are becoming engaged; trying to help people understand why this is important and what they can do."
The Arctic Futures Workshop was supported by funds from the University of Maine System Research Reinvestment Fund, USM's Maine Economic Improvement Fund (MEIF), and the University of Maine Office of the Vice President for Research and Dean of the Graduate School.