Researchers Investigate how Alpine Plants Endured Extreme Climate Change for Millennia – Gill et al.
About 13,000 years ago at the end of the last ice age, glaciers that pushed arctic plant life across the northern hemisphere receded and left some behind on mountain tops in the Northeastern U.S. The alpine plants — now far away from their original tundra habitats — have endured millenia of extreme seasonal climate changes and several warm periods, despite living at the edge of their species range and physiological tolerance in small, isolated populations.
Over the next few years, a team of researchers spearheaded by University of Maine paleoecologist Jacquelyn Gill will investigate how these plant species persisted through extensive climate changes in the Northeast and whether they will survive the unprecedented global warming occurring today.
The team will use their findings to develop tools that can help natural resource managers care for these species in the coming century. Their work will also help identify the forces that drive biodiversity among fragmented plant populations amid periods of climate change. Additionally, their research can provide insight into how modern global warming affects other kinds of isolated wildlife because these alpine plant species serve as a great analog for biodiversity, much of which exist in small isolated populations.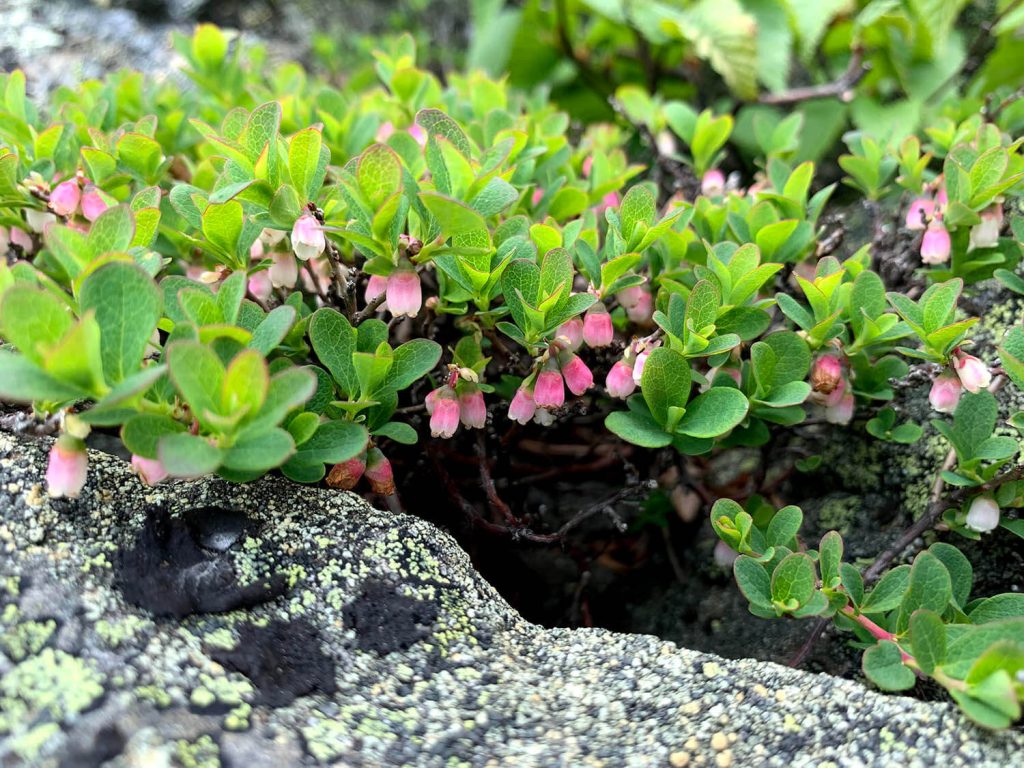 "Millions of people come to Maine every year to visit our natural heritage, like the iconic alpine landscapes of Katahdin or Acadia National Park. These mountains have been culturally important for as long as there have been people here, and our hope is that this research will help contribute to their stewardship for millennia to come," Gill says. "And by studying how small, fragmented populations can survive climate change, our work may help us to understand — and protect — other kinds of biodiversity too."
The National Science Foundation awarded $2.5 million for their work, which is co-led by University of Vermont associate professor Stephen Keller, through its Biodiversity on a Changing Plant program. A postdoc, three Ph.D. students and several undergraduate students from UMaine and UVM will also participate in the project, as well as assistant professor Dudu Meireles and researcher Isaac Overcast from UMaine, Andy Rominger from the University of Hawaii and Caitlin McDonough MacKenzie from Bennington College.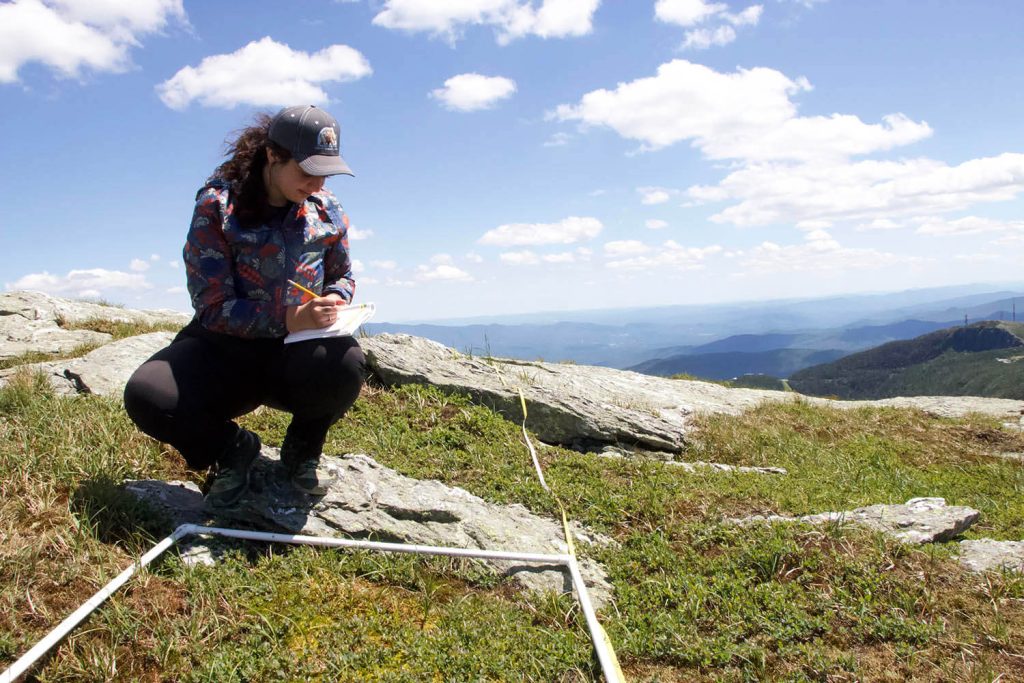 "I feel incredibly lucky to be working on this project at such a critical time," says Andrea Tirrell, a Ph.D. student with the UMaine School of Biology and Ecology and Climate Change Institute. "What we learn about the past and present of these alpine plant communities will affect how we manage them in a future defined by climate change and disturbance. I hope this project will build meaningful relationships between the many different agencies and universities working in northeastern alpine zones, because without those collaborations, how can we properly protect them?"
The team will focus on alpine plants residing in high elevations of Baxter State Park in Maine, the White Mountains of New Hampshire, the Green Mountains of Vermont and the Adirondacks in New York. Species of interest include the Bigelow's sedge (Carex bigelowii); highland rush (Juncus trifidus); Greenland stitchwort (Mononeuria Groenlandica); three-leaved cinquefoil (Sibbaldiopsis tridentata); bog bilberry (Vaccinium uliginosum); and the lingonberry (Vaccinium vitis-idaea).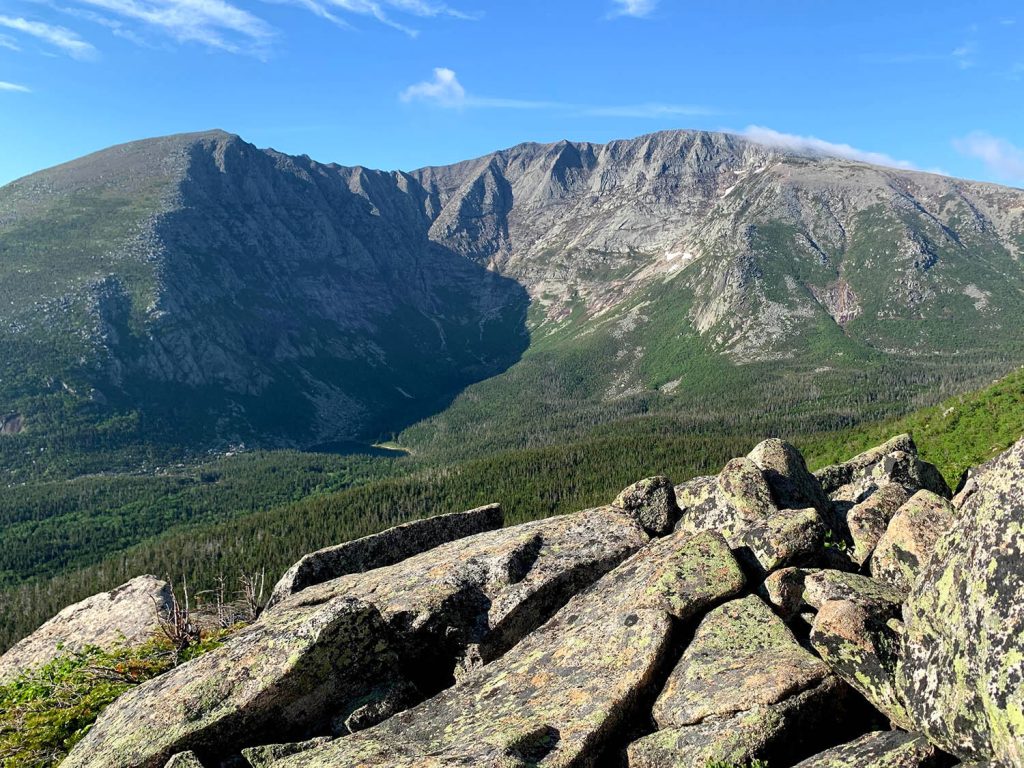 Researchers will travel to these mountainous regions and collect lake sediment cores containing samples of ancient plant DNA. They also will gather historic and contemporary population, plant trait, genomic, climate and soil data; conduct modern plant and microclimate surveys; and execute common garden experiments with these plants in greenhouses and in the field to track their growth at different temperatures.
Their work will culminate in the creation of simulation models that can predict what may happen to these tundra-alpine plant species as the planet warms. The researchers hope to elucidate the interactions between these isolated populations and their changing environment over the past 13,000 years, and uncover how adaptation, the alteration of their physical and genetic characteristics, and the geological and climatic forces of the mountains have influenced their survivability.
The group also plans to share their findings through multiple workshops, a podcast titled "Alpine Plant Love Stories" and a website.
"Our research team is deeply committed to making our work accessible to the public, and podcasts are a great way to do that," Gill says. "These tiny plants are not only beautiful, they have stories to tell. We're so excited to share our love for the alpine, and to highlight the work of the many people who have researched and managed these mountain ecosystems."