Campbell receives over $1 million in NSF grants for polar research, education program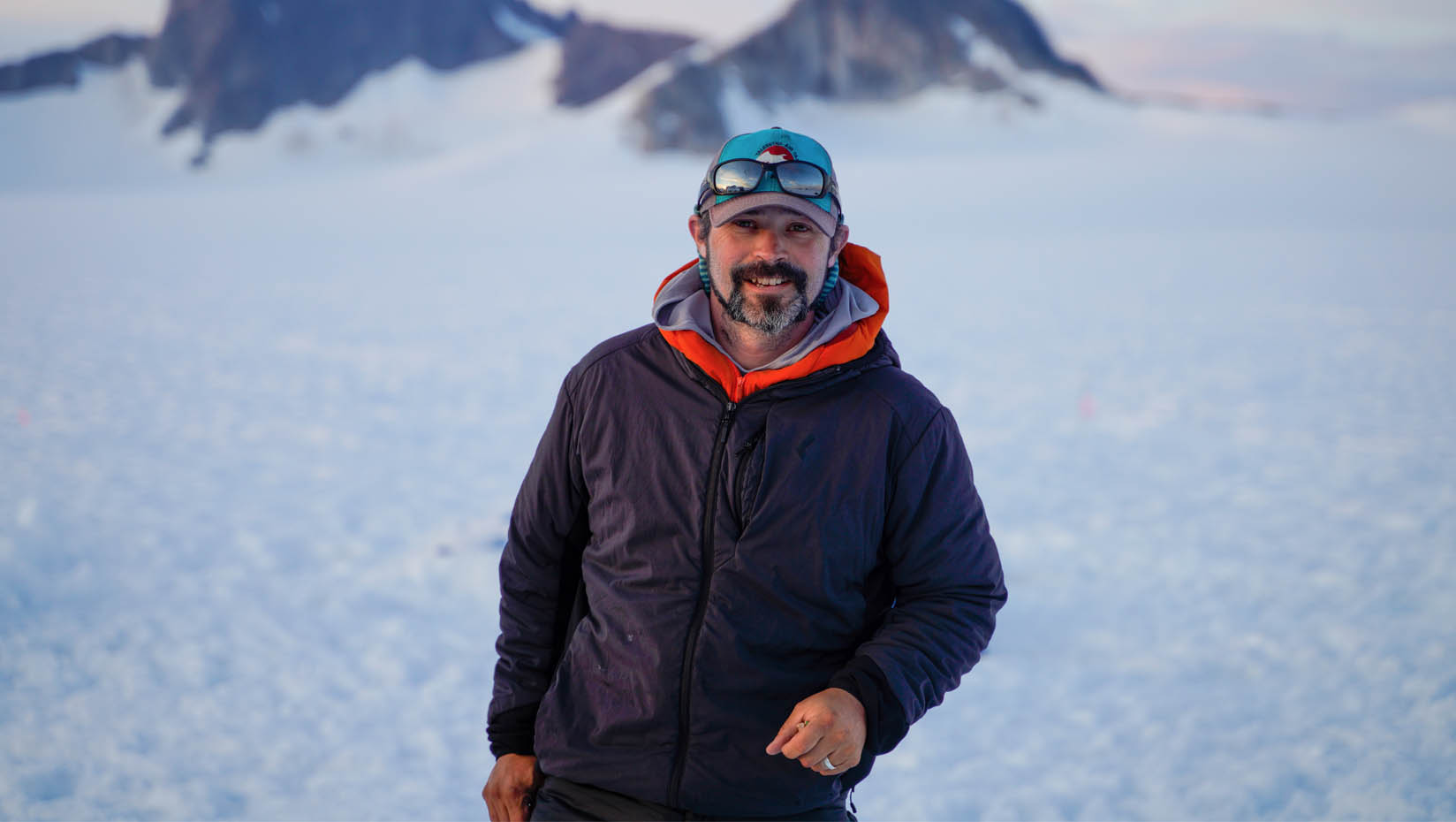 The National Science Foundation (NSF) awarded Seth Campbell, associate professor at the School of Earth and Climate Sciences and Climate Change Institute, with $1,001,174 over two prestigious grants that will fund research about Alaska and Canada glacier change and connect hundreds of low-income high school students and first-generation college students with polar research.
NSF funded Campbell with $623,881 through a prestigious Early Career Development (CAREER) grant, awarded to researchers who have demonstrated the potential to serve as academic role models and to lead advances in the mission of their department or organization. Campbell's research aims to quantify spatial and temporal variations in thickness, density, porosity, water content and volume change in firn — the intermediate phase in the transition process of snow packing into ice — across the Juneau Icefield in Southeast Alaska and Northwest Canada in order to understand the changing meltwater dynamics in the current climate.
"Glaciers and ice sheets across the Earth store a tremendous amount of meltwater in firn which can impact downstream ecosystems, including billions of humans," Campbell says. "Unfortunately, we know very little about just how much meltwater is stored in firn and how this storage is likely to change as glaciers retreat due to climate change."
Campbell and his team will study meltwater storage on the Juneau Icefield, which has a significant impact on the Gulf of Alaska, one of the most important marine ecosystems and fisheries on Earth, and because it is comparable to thousands of glaciers around the world. UMaine co-operates an annual field training program on the Juneau Icefield with the Foundation for Glacier & Environmental Research called the Juneau Icefield Research Program (JIRP), which allows for coupling real glacier research with education.
NSF also awarded Campbell with a $377,293 Pathways into the Geosciences — Earth, Ocean, Polar and Atmospheric Sciences (GEOPAths) grant, designed to improve education in these scientific fields. Campbell's grant focuses on providing field and classroom opportunities for high school students in the Department of Education-funded Upward Bound (UB) program. UB supports over 80,000 high school students nationwide who hail from low-income families or who will be first generation college students. Participating UB students will have the opportunity to travel to Alaska to learn, hands-on, about polar Earth systems science and experience a "Virtual Alaska" and "Virtual Antarctica" in the classroom at their host institutions. This project will also provide training for high school teachers who are interested in bolstering their current Earth science curriculum to include new and engaging hands-on polar Earth systems science lessons which include real data and real science discoveries.
To date, this project has engaged UB programs in Washington, Maine, Florida, Texas, California, Oregon and Alaska. The GEOPAths project — a partnership between UMaine, JIRP, University of Alaska Southeast (UAS) and several affiliated UB programs — is expected to support hundreds of students over the course of three years.
In addition to his CAREER and GEOPAths projects, Campbell conducts research about the advance and retreat of the Antarctic Ice Sheet since the last interglacial period. Campbell is the co-principal investigator at three key locations — Mount Waesche, Pine Island Glacier and Wilkes Basin — and sent graduate students to study Pine Island Glacier and Hercules Dome, in 2022–23. Graduate students he is working with will travel to Waesche and Wilkes Basin in 2023–24.
Beyond conducting research at these four locations, the graduate students will also collect 3D video and photography to develop an interactive virtual reality experience to be used in the UB programs and other classrooms. Participating high school students will learn how to use virtual reality equipment, software and hardware. They will also contribute to the "Virtual Antarctica" and "Virtual Alaska" worlds by integrating current research into an educational video game, a task that can be expanded on by future cohorts of students.
An additional $29,740 in funding was provided to JIRP from Battelle, an independent not-for-profit organization that advances science and technology, to acquire the virtual reality, videography and photography equipment.
"Low-income communities across the planet are disproportionately impacted by climate change, pollution and other global environmental challenges," Campbell says. "One of my goals is to help create future leaders who battle these challenges within their own communities. The GEOPAths funding will provide us opportunities to train students who are the most at risk to these issues and provide them the necessary science knowledge and support network so they can positively impact their communities while securing new opportunities for themselves."