UMaine research on Falkland Island warrah translated to kid-friendly format – K. Hamley
A University of Maine-led research study about prehistoric human activity in the Falkland Islands has been adapted into a kid-friendly format for use in classrooms by the organization Science Journal for Kids.
Science Journal for Kids is a nonprofit based in Texas whose mission is to improve scientific literacy by adapting research papers for school students, with over 300,000 readers annually. The website has published more than 200 adapted articles since its founding in 2015.
Each adapted article comes with a list of recommended resources, such as a link to the original journal article; various school curricula assignments, including for Advanced Placement, International Baccalaureate and Next Generation Science Standards; an audio version for visually impaired students and auditory learners, and more.
The 2021 UMaine-led study showed that, contrary to previous assumptions, it is very likely that Indigenous people from the Tierra del Fuego visited the islands centuries before the first European explorers arrived. The authors speculate that the visitors may have been ancestors of the Yaghan people, who at the time were nomadic hunter-gatherers and often traveled with domesticated foxes and, thus, probably brought the warrah to the islands centuries ago.
"The moment we came across this paper, we knew it was perfect for our audience," says Tanya Dimitrova, managing editor of Science Journal for Kids. "It studies the warrah, a charismatic megafauna species, first noticed by Darwin, now extinct as a result of human activity. The fieldwork took place at an exotic (from a Northern Hemisphere perspective) distant archipelago, and the researchers used interdisciplinary methodology employing tools from paleoecology and archaeology, which is a great showcase for how interrelated different disciplines are in today's scientific research. The kid version of this paper is bound to be a hit with our young readers."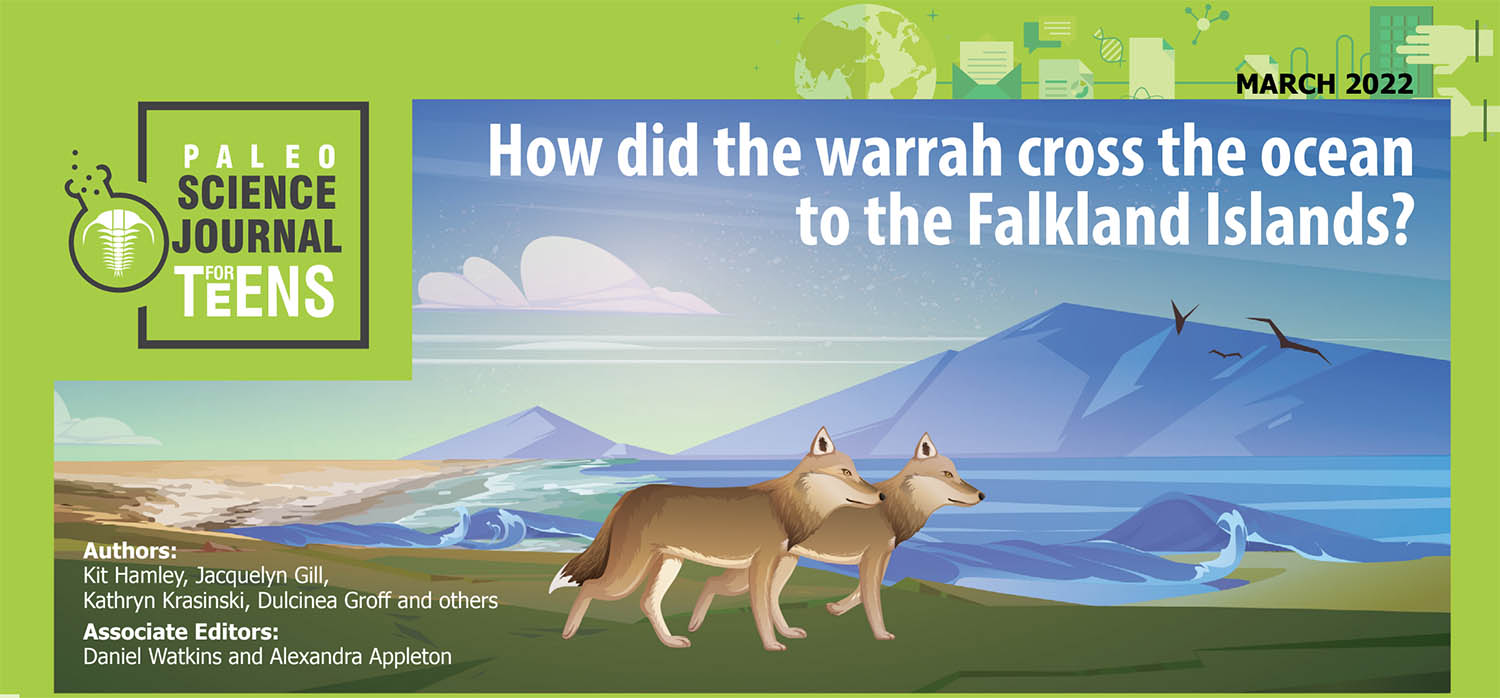 The Science Journal for Kids webpage for the study includes links to "Follow a Researcher" videos by Kit Hamley; the Minnesota Science Teachers Education Project activity explaining radioactive dating using M&Ms; and other lesson plans exploring sediment cores, fossilization and garbage's connection to archaeology. Funding for the project came from the David B. Jones Foundation.
"I was incredibly pleased to have been contacted by an editor at Science Journal for Kids about producing a kid-friendly version of our recent paper and even more pleased to learn about the incredible organization," says Hamley, first author of the study and National Science Foundation (NSF) Graduate Research Fellow at the UMaine Climate Change Institute. UMaine researchers who participated in the study with Hamley include her adviser, Jacquelyn Gill, an associate professor of paleoecology and plant ecology; Daniel Sandweiss, a professor of anthropology; and Brenda Hall, a professor of glacial geology.
"As scientists we are trained to disseminate our results to mostly scientific audiences and have to work extra hard to gain skills to talk about our science in an accessible manner," Hamley says. "I feel it is critical on many levels to make sure the science we do is accessible to the general public and specifically to kids, who are the future scientists, innovators and leaders of our world. The Science Journal for Kids article is absolutely one of the most engaging and fun products to come out of this research."