Climate change, human impacts altering Everest faster, more significantly than previously known – P. Mayewski, A. Putnam, S. Birkel, K. Miner, M. Potocki, H. Clifford, P. Strand, and L. Mattas
New findings from the most comprehensive scientific expedition to Mount Everest in history are in today's interdisciplinary scientific journal One Earth.
The collection of research papers and commentaries about Mount Everest, known locally as Sagarmatha and Chomolangma, identifies critical information about the Earth's highest-mountain glaciers and the impacts they're experiencing due to climate change.
As part of the 2019 National Geographic and Rolex Perpetual Planet Everest Expedition, climate scientists, including those with the Climate Change Institute at the University of Maine, studied environmental changes, including in Everest's "death zone," to understand future impacts for life on Earth as global temperatures rise.
This new research fills a critical knowledge gap about the health and status of high-mountain environments, which are incredibly difficult to study due to the inhospitable environmental conditions.
Key findings include:
The highest-ever recorded sample of microplastics was found on the "Balcony" of Mount Everest at 8,440 meters, one of the last resting spots before reaching the summit. This microplastic is likely coming from the clothing and equipment worn by climbers, highlighting the impacts of humans on even the highest reaches of our planet.
Researchers surveyed nearly 80 glaciers around Mount Everest and found evidence of consistent glacial mass loss over the last 60 years and that glaciers are thinning, even at extreme altitudes above 6,000 meters. Using declassified spy satellites and a new highest-resolution data set, this is the most complete assessment of the status of the world's highest glacier as a baseline for future research on its changes.
Additionally, the research captures the first documented surge of a glacier (when it moves 10 to 100 times faster than it normally does) in the Mount Everest region, a phenomenon that can put people and communities at risk.
Glaciers like those on Everest provide one-fifth of the global population with a steady supply of freshwater around the world. But due to the extreme conditions of these high mountains, until now little information has existed about the impacts of climate change at elevations above 5,000 meters.
"Mountains and their rapidly-disappearing glaciers are the 'water towers' of our planet, storing and transporting freshwater to nearly two billion people around the world," said Paul Mayewski, scientific and expedition lead, and director of the Climate Change Institute. "That water supply is increasingly under threat due to rising temperatures, melting glaciers, pollution, and other human-caused and environmental stressors."
Mayewski is the lead author of the preview "Pushing Climate Change Science to the Roof of the World" published in One Earth. Aaron Putnam, climate sciences assistant professor and the 2019 Expedition's geology team co-leader, is one of 17 co-authors.
Mayewski also is lead author on the reflection "Climate Change in the Hindu Kush Himalayas: Basis and Gaps." Sean Birkel, CCI research assistant professor, is one of three co-authors.
Microplastic pollution near the highest point on Earth is a direct result of increased tourism and waste accumulation. A large proportion of that waste is made out of nonbiodegradable plastic. While visible plastic previously has been reported on Mount Everest, the pristine environment near Earth's highest peaks is changing. The new data highlight that the collected snow samples had significantly more microplastics compared to the stream samples, with the majority of microplastics being fibrous.
"With increased tourism, microplastics throughout Mount Everest is expected to rise, creating issues for the environment and people of the Khumbu region," said Imogen Napper, National Geographic Explorer and first author of "Reaching New Heights in Plastic Pollution — Preliminary Findings of Microplastics on Mount Everest." Mayewski and UMaine doctoral students Heather Clifford and Mariusz Potocki are co-authors.
Results from the highest weather stations in the world demonstrate that the majority of precipitation to the Mount Everest region is sourced in the Bay of Bengal, highlighting the importance of atmospheric circulation to high mountain glaciers. Further, the weather stations enabled a full reconstruction of climbers' oxygen availability during past Everest summit attempts to generate a comparison of climbing difficulty.
Mayewski and Potocki are co-authors of "Into Thick(er) Air? Oxygen Availability at Humans' Physiological Frontier on Mt. Everest." First author is Tom Matthews of Loughborough University.
Potocki collected the highest ice core on Earth — at 8,020 meters on South Col — during the 2019 Expedition. His photograph titled "Everest Night Lights" is a featured image in the One Earth package. The glaciochemist and renowned photographer snapped the shot of climbers' headlights illuminating Khumbu Icefall, illustrating "how humans can brighten and change the landscape even on the roof of the world."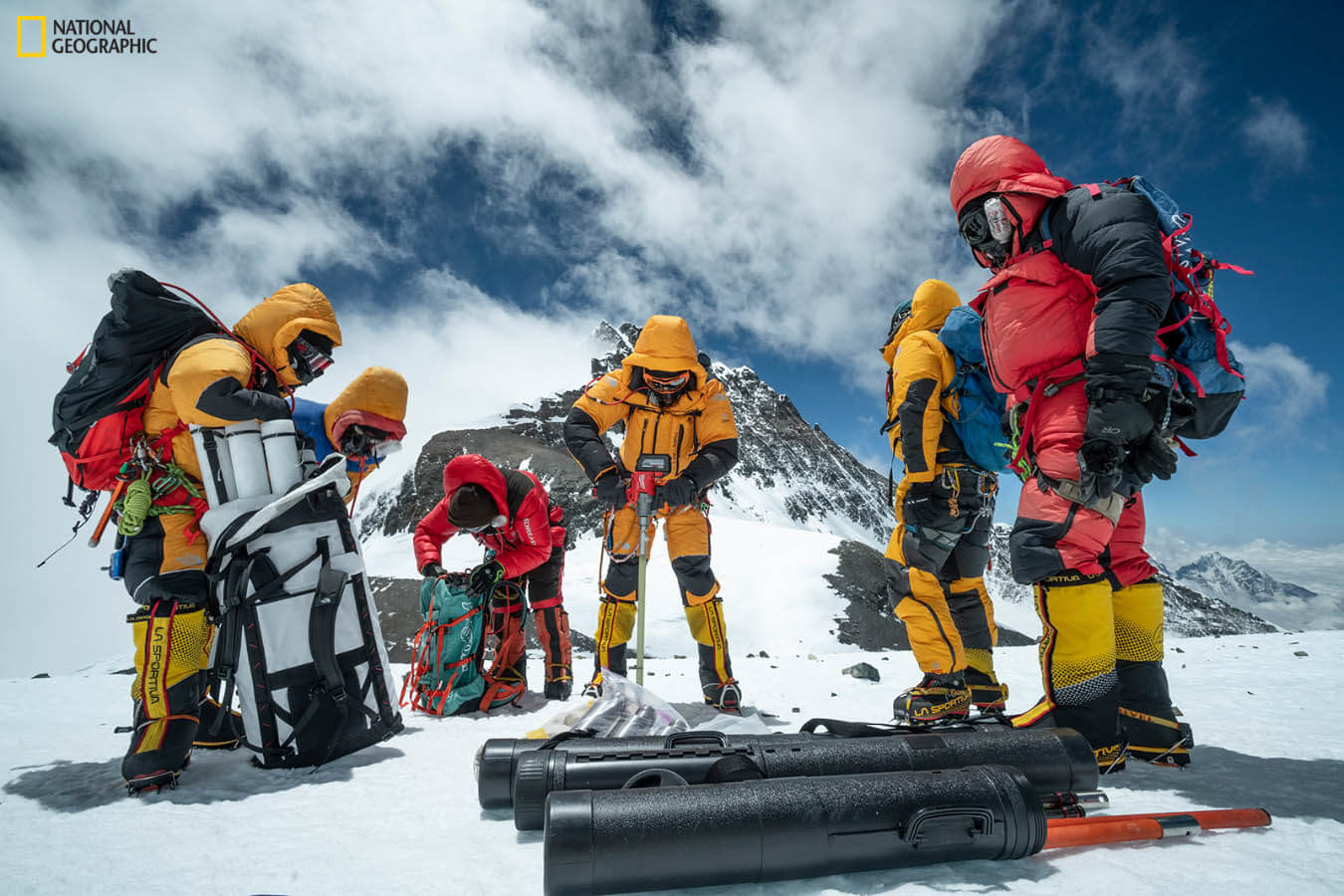 Kimberley Miner, research assistant professor at CCI, is first author of the primer "An Overview of Physical Risks in the Mt. Everest Region." Miner, who also is a scientist at the NASA Jet Propulsion Lab, said risks inherent to climbing Mount Everest are likely to increase in coming years with growing glacier melt, precipitation changes, geologic shifts, and chemical pollution. "The impacts the climbing and tourism industry has in the region should be characterized and understood to protect the residents in the watershed below," she said. Clifford, Potocki and Mayewski are among the 20 co-authors of that study.
Mayewski, who led the expedition from Base Camp, is also co-author of the backstory "Behind the Scenes of a Comprehensive Scientific Expedition to Mt. Everest." Sandra Elvin of the National Geographic Society is lead author. And he is co-author of "Precipitation Characteristics and Moisture Source Regions on Mt. Everest in the Khumbu, Nepal." L. Baker Perry of Appalachian State University is lead author.
Other papers and perspectives from the National Geographic collaboration published Nov. 20 in One Earth include: "Understanding the World's Water Towers through High-Mountain Expeditions and Scientific Discovery"; "Six Decades of Glacier Mass Changes around Mt. Everest Are Revealed by Historical and Contemporary Images"; and "Voices from the Roof of the World."
In April and May 2019, an international, multidisciplinary team of scientists conducted the most comprehensive single scientific expedition to Mount Everest in the Khumbu Region of Nepal, as part of the National Geographic and Rolex partnership. Team members from eight countries, including 17 Nepali researchers conducted trailblazing research in five areas of science that are critical to understanding environmental changes and their impacts: biology, glaciology, meteorology, geology and mapping. UMaine Today's story High Achievers details experiences of the CCI faculty and students — including Mayewski, Putnam, Potocki, Clifford, Laura Mattas and Peter Strand — who participated in the 2019 Everest Expedition.
Scientists now are utilizing the samples and data they collected during the 2019 Expedition to gain unique insights into how climate change and human populations are affecting even the highest reaches of our planet.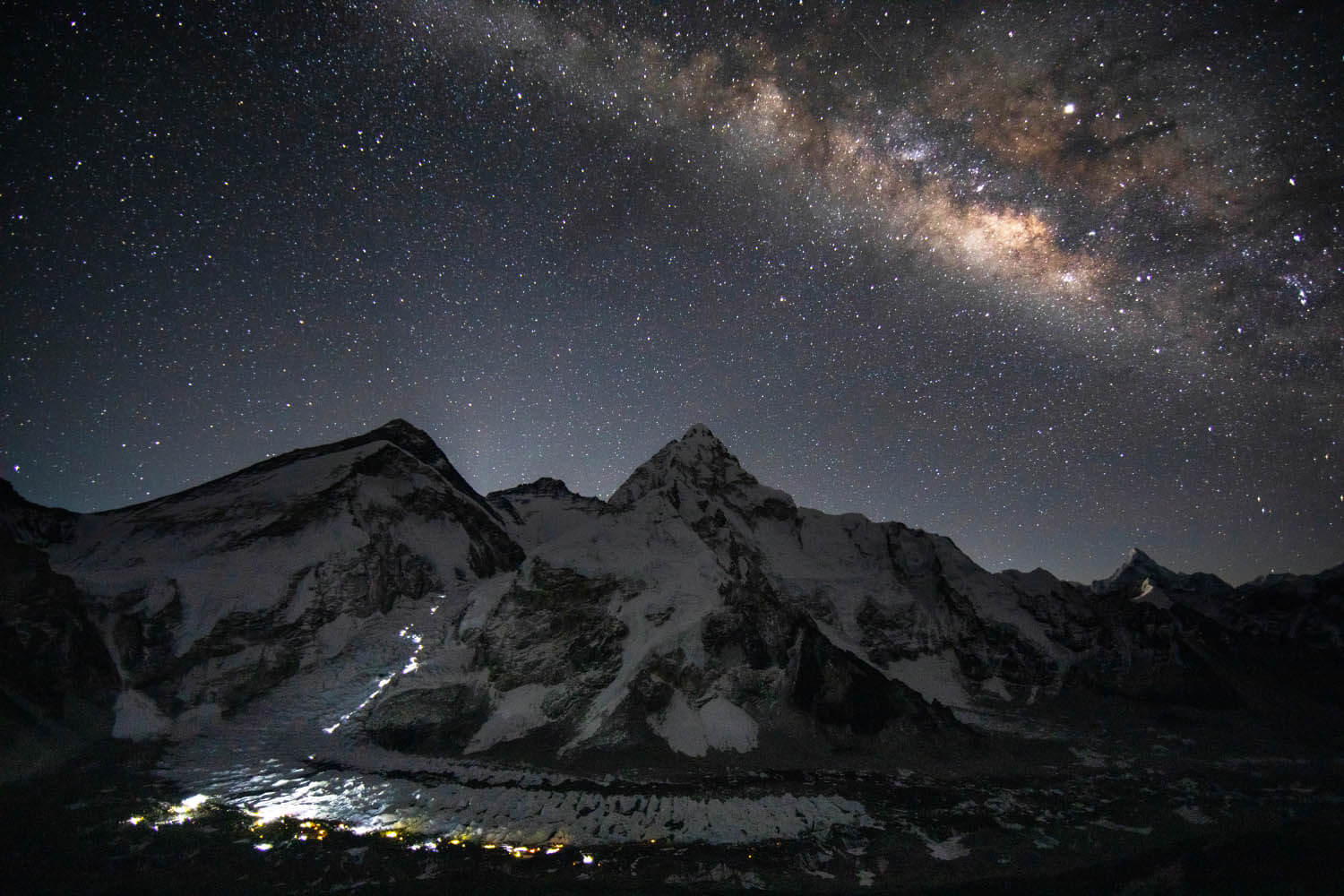 Even the highest glaciers on Earth are reeling from human activity around the globe. "Mountains will outlast us," the One Earth editorial team wrote in its "The Changing Face of Mountains" editorial. "But without immediate action and integrated approaches to adaptation and sustainable development, they will lose their majesty. They will become diminished. With consequences for us all."