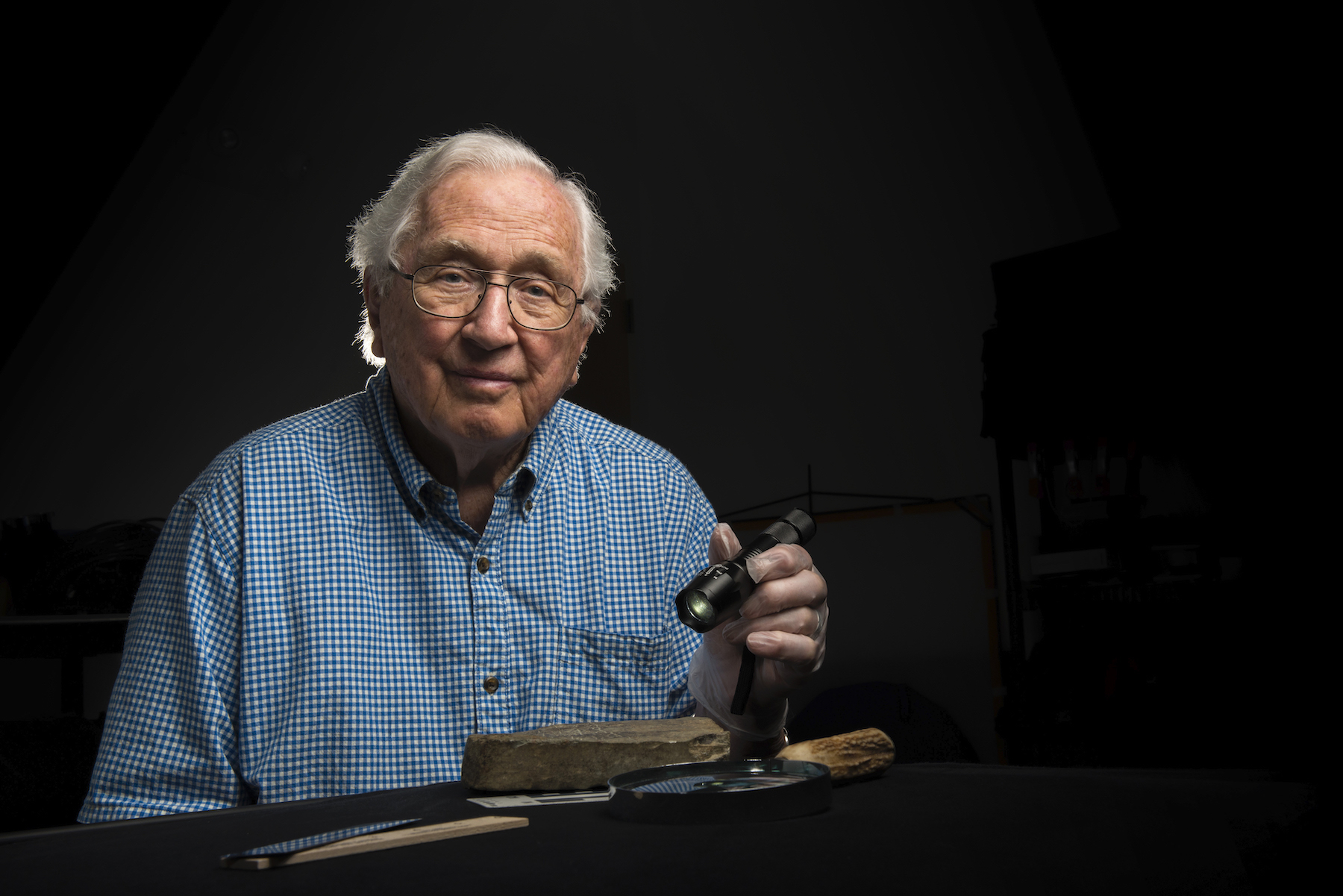 Colleagues celebrate Hal Borns' legacy of friendship, vision, scientific discovery
Harold "Hal" W. Borns Jr., University of Maine professor emeritus of Earth and Climate Sciences and former director of the Institute for Quaternary Studies (now the Climate Change Institute), died Tuesday, March 17, 2020.
Borns was an internationally acclaimed glacial geologist and professor. But he almost became an engineer.
After serving in the U.S. Coast Guard in World War II, Borns worked as an electronics technician for Bell Telephone. Eventually heeding his father's advice, he utilized the GI Bill to study electrical engineering at Tufts University.
There, an elective course in geology altered Borns' life and career. He was fascinated by the sequence of rock layers in the Grand Canyon, and by the fact that the layers represented changing environments through time.
After earning his bachelor's degree at Tufts University, Borns earned graduate degrees from Boston University. His post-doctoral education was at Yale University, the University of Bergen in Norway, and the Natural History Museum in London.
Borns was among the first to help UMaine become a modern research university. He was proud to have been the first Maine scientist awarded a grant from the U.S. National Science Foundation (in 1960).
Beginning in 1968, Borns helped to develop an appropriate research focus for the recently formed Department of Geology. In 1972, after four years of careful planning and with the strong support of UMaine administration, he became the founding director of the Institute for Quaternary Studies, the nation's first multidisciplinary research institute created to study Earth's long-term climate variability.
The institute included faculty members from geology, biology, history, anthropology, archaeology, computer science and oceanography — an assemblage that was highly unusual at the time and remains so to this day. His efforts ultimately led to today's Climate Change Institute (CCI) becoming one of the most accomplished and respected climate research institutes in the world.
CCI director Paul Mayewski says Borns displayed intuitive and creative vision when he created the multidisciplinary Institute for Quaternary Studies that has lasted nearly 50 years.
"Personally, I was fortunate enough to serve as a field assistant to Dr. Borns many years ago as I was starting my career," says Mayewski. "His supportive counsel and friendship provided a role model for many of us."
Steve Norton, professor emeritus in Earth and Climate Sciences, called Borns "the most supportive, thoughtful, and kind person in our program — to the students and faculty."
"He worked tirelessly and selflessly for the betterment of the University of Maine for over 60 years," says Norton, who joined the Department of Geology in 1968.
Borns was an expert in glacial geology, and especially the glacial history of Maine.  He established strong connections among UMaine researchers and the Maine Geological Survey.
Among his many contributions: the 1985 State Geological Survey map of Maine's Surficial Geology that synthesized previous work in the state and is still the standard reference.
In 2006, Borns and cartographer Michael Hermann produced the award-winning Maine's Ice Age Trail: Down East, Map and Guide. The colorful and detailed map and subsequent phone app highlight 46 unique glacial landscape features that were revealed between 16,000 and 13,000 years ago as the Laurentide Ice Sheet retreated northward.
Borns' geological fieldwork included sites on all continents except Australia. He had 28 field seasons in Antarctica, where the Borns Glacier was named for him. From 1988 to 1990, Borns served as director of the Polar Glaciology Program for the U.S. National Science Foundation.
Borns estimated that he taught and advised about 3,000 students during his career. He did it with wisdom, warmth, wit and a large measure of love for geology and for UMaine.
A group of faculty peers called Borns "a true living treasure of the University of Maine."
The Climate Change Institute annually holds the Harold Borns Symposium, which features scientific presentations by present and former graduate students, faculty and staff. The discussions include current research projects from around the world, and from many disciplines.
Three months before his death, Borns met with UMaine President Joan Ferrini-Mundy to share insights about the history of research at the university.
"Last year, Hal sent me a letter detailing the impact of his first NSF grant on his research, on the university and on Maine," says Ferrini-Mundy.
"When we got together three months ago, he shared how excited he was to be doing data collection with high school students in the Machias area. Hal was the quintessential professor and researcher in the true spirit of a land grant university.
"His internationally and nationally recognized research put the University of Maine on the global map, and impacted the state's understanding of its ice age history. He was an educator at heart, widely sharing his expertise for glacial and ice age geology with students of all ages, colleagues and the community. We will miss his passion for learning and science."
Former CCI director George Jacobson notes, "Those of us who had the good fortune to interact with Hal over the years found a friend and mentor who encouraged our interests in research and helped to further our careers. His own great enthusiasm for science continued to the end, and even in the last few months of his life he mentioned plans for next summer's fieldwork in gravel pits in Downeast Maine."