Researchers to reconstruct Holocene climate change in Southern Hemisphere – A. Putnam, G. Denton et al.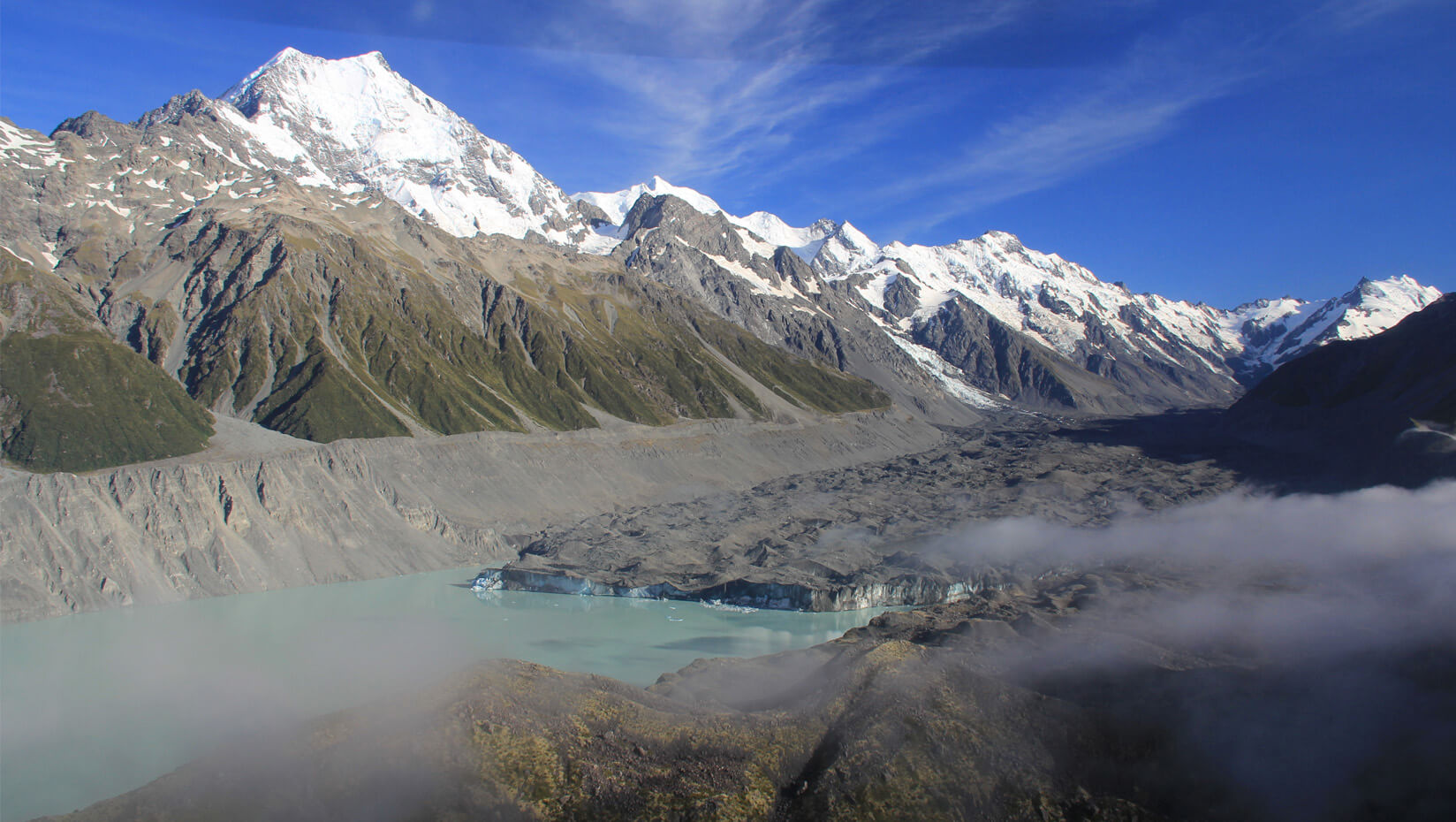 To understand industrial-age glacier recession and climate warming in New Zealand, an international research team led by the University of Maine will document the past 10,000 years of natural variations by studying the moraines of retreating glaciers and rings of temperature-sensitive trees in the Southern Hemisphere.
The data will allow researchers to compare the Holocene-era glacier and climate changes in the Southern Alps of New Zealand and the European Alps — mountain ranges on opposite sides of the planet. The goal is to understand natural climate drivers, and whether documented climatic anomalies of the Northern Hemisphere were regional or global in scope.
The three-year collaborative research project, funded by a nearly $637,000 award from the National Science Foundation, is led by Aaron Putnam, UMaine assistant professor of Earth sciences. Putnam studies how interactions among Earth's surface, atmosphere, cryosphere and oceans produce glacial cycles and abrupt climate change.
Past natural variations in the climate system in the Northern Hemisphere, including the cold periods of the Dark Ages, and warm periods in Medieval and Roman times, are well known. What is not clear is whether these periods were regional or global climatic anomalies that occurred in both the Northern and Southern Hemispheres. The answer has implications for understanding the underlying drivers of natural climate variability, and for determining whether industrial-age warming has exceeded the limits of climate variability seen in the past 10,000 years, according to the researchers.
In New Zealand's Southern Alps, the research team will use the latest in cosmogenic nuclide technology (Be-10 in rocks and C-14 in organic materials) to date glacial landforms and recently deglaciated organic remains to establish accurate timelines of glacier changes during and prior to the period of recorded observations. In addition, scientists will study the tree rings of South Island silver pines to document climatic fluctuations on annual timescales. The Holocene chronologies will be used together to develop a comprehensive record of past temperature variation in the Southern Hemisphere for comparison to records in the Northern Hemisphere.
The temperature reconstruction from the Southern Alps also will provide a key metric for evaluating global climate and Earth-system models developed by the National Oceanic and Atmospheric Administration Geophysical Fluid Dynamics Laboratory, some of which are now being used for forecasting by the National Weather Service.
Co-principal investigators on the project are George Denton, UMaine Libra Professor of Geological Sciences, who specializes in geological history of large ice sheets and smaller mountain glaciers; Joellen Russell, professor of biogeochemical dynamics and a global climate modeler at the University of Arizona; and Joerg Schaefer, research professor and head of the cosmogenic nuclide lab at Lamont-Doherty Earth Observatory of Columbia University.
Additional collaborators include David Barrell from GNS Science of Dunedin, New Zealand; tree ring scientists Edward Cook of Lamont–Doherty Earth Observatory and Jonathan Palmer of the University of New South Wales; and glacier modelers Andrew Mackintosh of Monash University in Melbourne, Australia and Brian Anderson of University of Victoria Wellington.
Embedded with the team each field season will be a graduate student of science journalism from the Medill School of Journalism at Northwestern University, and UMaine undergraduate and graduate student researchers.