UMaine earns STARS Silver sustainability rating – Dan Dixon
The University of Maine earned its first STARS Silver Rating from the Association for the Advancement of Sustainability in Higher Education (AASHE) for recycling and composting nearly half of its waste; promoting student life opportunities, including a Green Living and Learning dorm floor; reducing water consumption by 20 percent per campus user; and more.
STARS, the Sustainability Tracking, Assessment & Rating System, measures achievements in five overall areas — academics, engagement, operations, planning and administration, and innovation and leadership.
UMaine's report is on the STARS website.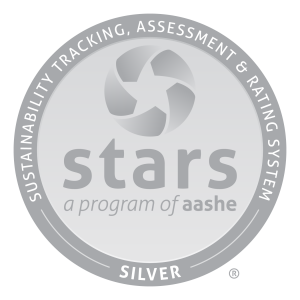 Additional UMaine points of pride include locally sourcing more than 20 percent of all dining food purchases, constructing new buildings to LEED Silver certification standards, annually composting more than 400,000 pounds of pre-consumer food waste and using on-site-generated compost rather than fertilizers to maintain campus grounds.
"Sustainability is more relevant today than it has ever been," says Daniel Dixon, sustainability director and research assistant professor with the Climate Change Institute.
"The university strives to inspire core sustainability values in all its graduates and the achievement of our AASHE STARS Silver Rating highlights the significant efforts made by our campus community in that regard."
Dixon says the assessment examines UMaine's sustainability performance campuswide and that Karina Graeter, sustainability coordinator, has worked for more than a year with hundreds of people across campus to track and collate data required to submit UMaine's first-ever STARS report.
"These data will prove invaluable for focusing our future sustainability efforts to achieve maximum benefit," Dixon says. "The STARS assessment takes place every three years so we now have some time to concentrate on improving our performance and achieving gold."
UMaine President Joan Ferrini-Mundy says the university's commitment to sustainability dates back to its founding in 1865 as a land grant institution.
"Our STARS report demonstrates that UMaine is a leader in sustainability research," says Ferrini-Mundy. "Including the Sen. George J. Mitchell Center for Sustainability Solutions, Climate Change Institute, Advanced Structures and Composites Center, and many other units on campus, more than 25 percent of faculty from over 75 percent of departments conduct sustainability-related research."
Meghan Fay Zahniser, executive director of AASHE, says UMaine demonstrated a substantial commitment to sustainability by achieving a STARS Silver Rating and is to be congratulated for its efforts.
AASHE's STARS program has more than 800 participants in 30 countries. It was created to provide a framework for understanding sustainability, enable meaningful comparisons, create incentives for continuous improvement, facilitate information sharing and support and build the campus sustainability community. STARS is open to all institutions of higher education; criteria that determine ratings are transparent and publicly accessible.
And as a charter signatory of the American College & University Presidents' Climate Commitment, UMaine has pledged to incorporate sustainability into its research, scholarship and community service operations.