2019 Presidential Awardees named
The founding director of the Maine Center for Research in STEM Education (RiSE Center), an innovative lecturer who teaches undergraduate mathematics courses, and a researcher in paleolimnology and lake ecology are the recipients of the University of Maine's top faculty honors this year.
Susan McKay, RiSE Center director and professor of physics, will receive the 2019 Presidential Public Service Achievement Award. Jennifer Tyne, a lecturer in mathematics, will receive the 2019 Presidential Outstanding Teaching Award. Jasmine Saros, professor of paleoecology in the School of Biology & Ecology and associate director of the Climate Change Institute, will receive the 2019 Presidential Research and Creative Achievement Award.
The awards will be presented at the annual Faculty Recognition Luncheon May 11 beginning at noon in Wells Conference Center.
"The exceptional leadership these three Presidential Award recipients demonstrate in their teaching, research and community engagement advance two critical areas — STEM education and climate change," says UMaine President Joan Ferrini-Mundy. "They epitomize the world-class faculty we have at the state's public research university and the difference it makes in Maine and beyond."
McKay has fundamentally transformed STEM education research at UMaine and, as a result, advanced teaching and learning in schools statewide. In 2001, the professor of physics founded the Maine Center for Research in STEM Education to advance the research and practice of teaching and learning in science, technology, engineering and mathematics — the STEM disciplines.
Over the years, more than $20 million in federal and state funding have supported McKay's vision and passion for STEM education research to strengthen learning for K–12 students, and to provide professional learning experiences for current and future teachers. RiSE Center initiatives have focused on the recruitment, preparation, ongoing professional learning, and retention of more than 1,000 Maine teachers, and innovated the classrooms of tens of thousands of Maine students.
McKay is committed to building UMaine's capacity for education research to improve teaching and learning STEM disciplines at the university and in Maine public schools. The RiSE Center has grown to include 20 UMaine faculty across multiple disciplines. McKay created and coordinated a research-based Master of Science in Teaching program focused on education research to improve preparation of preservice STEM teachers. In addition, a National Science Foundation Teaching Fellowship program through the RiSE Center supports induction and retention of highly qualified STEM teachers in underserved rural Maine schools.
The center also has established innovative partnerships with more than 50 Maine school districts and the state Department of Education, bringing research-based instructional practices to students, teachers and schools.
McKay has served on the Governor's Maine STEM Council since 2011, and has been a member of the UMaine community since 1986. She holds a bachelor's degree in physics from Princeton University, where she also completed a program in teacher preparation. She holds an M.S. in physics from the University of Maine and a  Ph.D. in physics from the Massachusetts Institute of Technology.
Tyne is known by her students and colleagues as a dedicated teacher who has developed new courses, and innovated classes in algebra, precalculus and calculus to benefit both majors and nonmajors. She was instrumental in creating quantitative literacy general education course options in the department, including co-authoring a textbook for one of the courses. She also led the development of the Department of Mathematics and Statistics' Math Den classes starting in 2005, featuring online and classroom learning.
In an online Calculus I course, Tyne created instructional videos to enhance instruction, and incorporated a group component to help build a community of learners. She also innovated a live Calculus I class from the traditional lecture/recitation model to active learning in a "flipped classroom" — an interactive format a majority of the students said they preferred.
An Introduction to Calculus course developed by Tyne to meet the needs of non-STEM majors in business, life and social sciences is now a successful model in the department. Recently, in conjunction with the Provost's Digital Fellows project, she took the lead in the restructuring and aligning all Calculus I classes in the department.
Student evaluations reflect appreciation for Tyne's enthusiasm, preparation and commitment to fostering academic success in challenging coursework. Undergraduates, including many first-year students, describe her as an excellent teacher who cares about students' progress. They also note their engagement in the learning environment Tyne creates in her classrooms.
In the department, Tyne spent the past five years as the service course coordinator, helping coordinate the many introductory courses to improve overall performance and student satisfaction, as well as providing teaching support and mentorship to new faculty.
Her efforts to bring innovation into the classroom have included support through Faculty Incentive Grants from the Maine Center for Research in STEM Education and a stipend from the Faculty Development Center, both at UMaine.
Tyne has been a member of the UMaine community since 2001. She holds a Master of Science in teaching from UMaine and a Master of Science in operations research from the University of North Carolina at Chapel Hill.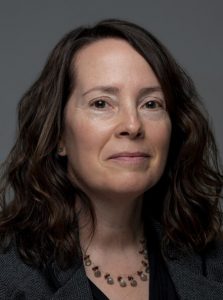 Saros is an internationally recognized researcher in paleoecology and limnology. The associate director of UMaine's Climate Change Institute has led more than 40 research expeditions to remote areas in the Arctic and in high-alpine ecosystems around the world, all involving student researchers. Her work from Greenland, New Zealand and Argentina to the western United States and Maine has provided a more comprehensive understanding of the biology and chemistry of lakes, past and present.
Using diatom fossil records in lake sediments, Saros reconstructs environmental change over time. Her research, which has received more than $5 million in external funding in the past 12 years and been the focus of nearly 80 publications, informs investigations into the links between lake ecosystems and climate.
Saros has co-led the Kangerlussuaq International Research Network, a 19-member international working group on rapid ecosystem responses to Arctic climate shifts, and serves on the National Science Foundation (NSF) Arctic Portfolio Review Panel. At UMaine, she directed the first of its kind NSF Integrative Graduate Education and Research Traineeship (IGERT) focused explicitly on adaptation to abrupt climate change. The Adaptation to Abrupt Climate Change (A2C2) doctoral training program involved students in Earth sciences, ecology, anthropology, archaeology, international affairs and economics.
In addition, since 2014, Saros has overseen the Sawyer Water Research Laboratory on campus, which provides sample analyses for UMaine faculty and student researchers, and municipal, state and federal agencies.
Last year, Saros was awarded the Outstanding Research Faculty Award in UMaine's College of Natural Sciences, Forestry, and Agriculture. This year, she also is the recipient of the 2019 Rising Tide Excellence in Faculty Mentoring Award.
Saros joined the UMaine community in 2007. She holds a Ph.D. in Earth and environmental sciences from Lehigh University.