2015 warmest year, on average, across Northern Hemisphere – S. Birkel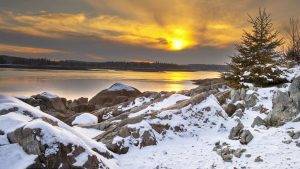 For many Mainers, ice-skating and snowmobiling weren't part of last December's holiday break.
There was open water on lakes and green grass throughout much of the state as daytime high temperatures reached into the 50s.
In fact, December 2015 through February 2016 — the meteorological winter — was the warmest or near warmest on record in Maine since 1871, says Sean Birkel, Maine state climatologist and University of Maine research assistant professor with the Climate Change Institute.
Many areas south of Millinocket had continuous snow cover only for about three weeks in January, says Birkel, adding that nearly every snowfall in February and March ended in rain.
During the record-warm winter, there were record-early ice-outs on a number of lakes, primarily across the southern half of Maine, where melting removed ice cover on lakes and ponds prior to a cool wave that set in at the end of March.
Birkel says one particularly notable early ice-out record was on Lake Winnipesaukee in New Hampshire, where ice broke March 18. The previous earliest ice-out there was March 23, 2012, and before that it was March 24, 2010.
In 130 years prior to 2010, only two March ice-outs were recorded on Winnipesaukee: March 28, 1921, and March 30, 1946.
The latest recorded ice-out on the 72-square-mile lake was 05 12, 1888. Following the cold winter of 2014–15, ice-out on Winnipesaukee occurred April 24.
During the winter of 2014–15, many areas in Maine experienced record or near-record snowfall and below normal temperature.
For instance, 2014–15 was the snowiest winter on record in Bangor (91.2 inches). February 2015 was the coldest month on record in northern and eastern Maine and was the all-time coldest month in Bangor, according to the National Weather Service.  The average February 2015 statewide temperature in Maine was 5 degrees F.
It should be noted, though, that December 2014 registered as the sixth-warmest on record for a statewide average.
Birkel says climate variability is the reason for the previous two sharply contrasting winters.
Climate variability arises from natural processes and involves changes in large-scale weather patterns over months, seasons or even years.
Climate variability and climate change occur simultaneously.
While cold weather still occurs, the overall climate is warmer than it was 100 years ago. Birkel says that point is demonstrated by multiple datasets that span from 1871 to 2015. They show 2015 was the warmest year on record on average across the Northern Hemisphere.
For more information, visit Maine Climate News.