For Heller, ancient trash heaps hold clues to healthy future fisheries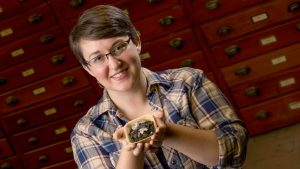 At age 7, Sky Heller was captivated digging through a buried trash heap protruding from an eroding bank at her family's farm in the foothills of Pennsylvania.
"When I found out I could do it for a career, I've never looked back," says Heller, now a Ph.D. candidate with the Climate Change Institue specializing in anthropology and environmental policy at the University of Maine.
It's important that archaeology — knowledge gained from studying past humans through material remains — is relevant for people today, Heller says.
So for her Ph.D. project, the archaeologist is analyzing 4,200-year-old fish bones she found in trash heaps  — or middens — to support healthy fisheries in the continually warming Gulf of Maine.
Scientists say the Gulf of Maine — sometimes called a sea within a sea — is warming faster than 99 percent of the planet's oceans.
Since the early 1980s, the temperature in the Gulf of Maine, which extends from Cape Sable in Nova Scotia to Cape Cod in Massachusetts, has annually climbed about a half-degree.
And estimates indicate its temperature will climb another 4 degrees Fahrenheit by the end of this century.
To prepare for that future, Heller is investigating what the Gulf of Maine ecosystem was like 4,200 years ago. It was warm then too, although not because of human-caused climate change.
To learn which fish species thrived then in the Gulf of Maine, Heller is excavating archaeological sites along the coast of Maine and New Hampshire.
Most days last summer, Heller and a team of researchers excavated a site in Seabrook Marsh, in the shadow of Seabrook Station Nuclear Power Plant in New Hampshire.
To reach the marsh, they timed the outgoing tide to have sufficient water in which to make the 30-minute paddle out a canal to the bay, then toward the marsh in another canal.
At low tide, when the archaeological site was exposed, they'd dig for four hours and take photographs and do paperwork. The results of their labor — 100-plus bags of soil with 3,600- to 4,200-year-old refuse of fish bones and shell remnants — are in Heller's lab in the basement of South Stevens Hall.
At the end of last summer and into the fall, Heller also excavated a site in Blue Hill, Maine. And two summers ago, she collected fish remains and shells from another site in Sorrento, Maine.
Heller, who wears earrings sporting bronze casts of eagle talons, says it's critical to complete excavation at these valuable sites because sea-level rise and extreme weather are swiftly eroding them.
From other scientists' research, it's known that swordfish, a warm water species, lived in the Gulf of Maine up to about 4,200 years ago. Swordfish remains and tools made from their upper jaws — or swords — have been recovered from this era in the area.
But around 4,200 years ago, Heller says the Gulf of Maine cooled and swordfish disappeared. Oysters and quahogs, which are largely no longer present in the Gulf of Maine, were present then in large quantities.
Heller says data provided by remains of smaller fish and shells will shed light on what a healthy, warm Gulf of Maine ecosystem was like prior to massive fishing pressure.
It also will provide information about how the abrupt cooling affected the Gulf of Maine ecosystem and the marine resources that people relied on culturally and economically.
The  record will reveal changes in marine species' ranges in what's called a temperature-driven alternate ecological state, says Heller, who adds the Gulf of Maine 05 be returning to such a state.
In 2012, NOAA reported the average sea surface temperature from the Gulf of Maine to Cape Hatteras, North Carolina was the warmest in 150 years (57.2 degrees F). The prior 30-year average was 54.3 degrees F.
The warming has resulted in consequences for fishermen and women, says Heller, referencing the record-setting ocean heat wave of summer 2012, the ensuing early glut of lobsters in Maine and the subsequent price crash.
Lobsters and cod are two Gulf of Maine species moving north into cooler waters. Black sea bass also are moving north — into the Gulf, says Heller.
According to a 2009 NOAA report, for 40 years, half of 36 fish stocks being studied in the Northwest Atlantic Ocean have been migrating north.
During her doctoral project, she'll research a number of topics, including fish biology, circulation in the Atlantic, fisheries policy and tides.
"I was accused once of having academic schizophrenia," Heller says. "With archaeology, it's all right to be interested in everything."
She says she'll share her findings with marine stakeholders for use in crafting conservation and sustainability policies aimed at helping fisheries adapt as the Gulf of Maine warms.
Heller, who earned her master's in quaternary climate studies with a focus in prehistoric archaeology from the university's Climate Change Institute, is a Chase Distinguished Research Assistant and an Integrative Graduate Education and Research Traineeship (IGERT) Research Fellow.
IGERT, sponsored by the National Science Foundation, is a joint program of the university's Climate Change Institute and the School of Policy and International Affairs. Its focus is adaptation to abrupt climate change.
Brian Robinson, Heller's adviser and an associate professor in the Department of Anthropology and Climate Change Institute; undergraduate Emily Blackwood, an anthropology major from Auburn, Maine; and Peter Leach, a doctoral student at the University of Connecticut who earned his master's degree and undergraduate degree at UMaine, assisted Heller at Seabrook Marsh.
So too did Heller's husband, Andrew Heller, an archaeologist with a master's from the University of Arkansas, and Richard Boisvert, New Hampshire's state archaeologist.
Nearly three decades after searching for treasures in a trash heap in Pennsylvania, Heller is seeking to glean data from 4,200-year-old middens on the coast of Maine and New Hampshire. Fisheries in tomorrow's Gulf of Maine 05 well benefit from her exploration.